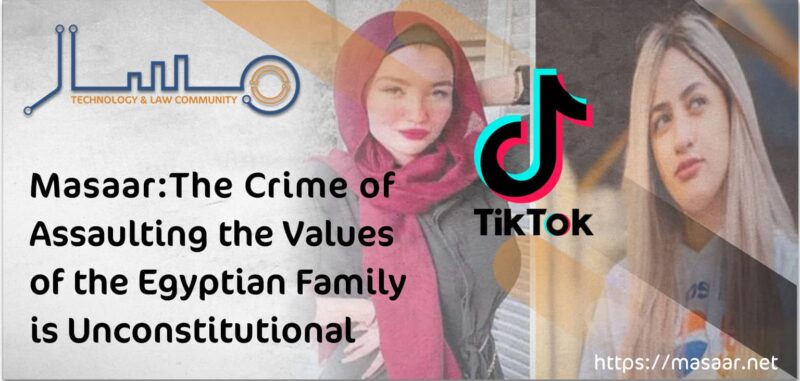 "Masaar" submitted this memorandum due to the repeated use of Article 25 by the investigation bodies and the law enforcement authorities, to suppress freedom of expression on various entertainment platforms and to restrict the freedom to use the Internet. The authorities have arrested around nine females since April 2020, and referred them to criminal trial. They were sentenced to prison, in addition to heavy fines for publishing entertainment content on some social media platforms. The authorities have justified the arrest of these women and girls by claiming that the materials they published violate the "principles and values of the Egyptian family."
In its defense memorandum, "Masaar" said that Article 25 of the aforementioned law violates many constitutional texts. It is worth mentioning that Article 25 punishes with imprisonment for a period of no less than six months, and a fine of not less than fifty thousand pounds and not more than one hundred thousand pounds, or one of these two punishments, anyone who violates the values and principles of the family in Egyptian society. Among the constitutional texts that are violated by Article 25 of the Cyber Crime Law is the text of Article 95 of the constitution issued in 2014, which states that the penal texts should respect the principle of the legality of crimes and penalties; this is guaranteed when the legal texts are clear and specific in a way that is not shrouded in any ambiguity, and when the elements of the crime are inferred from the apparent content of the text and not through the various interpretations of its provisions. This is lacking in the phrase "assaulting the principles and values of the Egyptian family." Also, Article 25 of the Cybercrime Law contravenes the text of Article 96 of the Constitution, which argues that the accused person is presumed innocent until proven guilty in a fair legal trial. Article 25 also violates freedom of expression guaranteed by the Egyptian constitution.
"Masaar" had issued an analytical summary on the contexts of the arrest of many girls and women since April 2020, in conjunction with the issuance of the "Monitoring and Analysis Unit" at the Attorney General's office a number of media statements that explain the Public Prosecution's tendency to restrict the entertainment content published by women in particular, claiming that it breaches public modesty and family values and traditions. "Masaar" considered this a gross violation of freedom of expression. At the time, "Masaar" called on the Egyptian authorities to immediately and unconditionally release all individuals detained for expressing their views on the Internet and to amend all legal texts restricting the freedom to use the Internet, freedom of expression and the right to privacy.