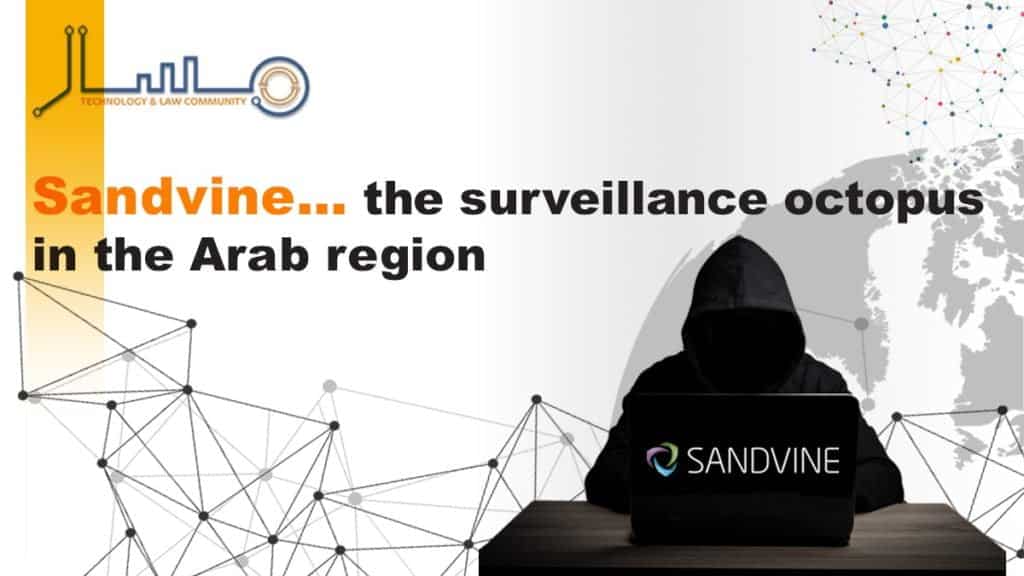 Introduction
Partnership and business agreements between Arab governments and corporates on the one hand, and foreign companies working in the internet and communication surveillance industry (software/hardware) on the other, is currently witnessing an increase in rate and scale. The aim is to manipulate the flow of information, restrain freedom of expression, and control internet and communication systems to curtail the use of free cyber and communication space by activists calling for political and social change as platforms for solidarity, mobilization and organization. Arab regimes even cooperate with each other in this regard, reaching the point of buying espionage soft/hardware for each other, as when the UAE bought spying devices to Egypt.
To be sure, the scene as regards importing, operating and using this espionage soft and hardware in the Arab world is very complicated. Many international corporations involved in producing this kind of equipment and applications are very active in the Arab region; for example: Gamma Group, Blue Coast Systems, Ercom, Hacking Team, Amesys, and the Israeli NSO are all working in the region.
This report reviews the activities of Sandvine; a company whose name has been in circulation in the past years for being active in the field of developing, manufacturing and operating software and equipment used by governments as tools for internet surveillance. In relation to this, the report monitors a number of deals concluded by this company with Arab governments and companies, which represent a threat to the freedom of expression, the free flow of information, and the right to privacy.
Sandvine in the Arab region
Sandvine operates in more than 50 countries, including countries in the Middle East and North Africa. In 2018 for example, a Citizen Lab1 report highlighted widescale government use of Sandvine's "Deep Packet Inspection (DPI) devices to deliver nation-state malware in Turkey and indirectly into Syria, and to covertly raise money through affiliate ads and cryptocurrency mining in Egypt"2.
Another report by Qurium3 revealed that Zain, a Jordanian telecommunications company, used Sandvine products for website blocking and internet surveillance. Also, and in 21 September 2020, a joint report by Egyptian Al-Manassa website and Qurium said that Sandvine's devices had been used in Egypt, to block websites and implement DPI technology in the infrastructure of some internet and communications service providers in Egypt.4
Masaar (Technology & Law Community) maintains that Sandvine's activities violate internet users' rights, as per the freedom of expression, the free flow of information, and the right to privacy. Governments use Sandvine's services and products to illegally reveal the identity of internet users and block their outreach to specific internet content. This report represents an initial effort to draw the map of the extent of Sandvine's infiltration into the Arab region. We call upon journalists, researchers, and techies to join us in this effort, to uncover the company's involvement in human rights violations.
History of Sandvine and Procera merger
Sandvine's history is entangled in a series of mergers and acquisitions in between many technology companies working in providing services and software used by governments to spy on internet users and impose censorship on their activities.
Sandvine was established in 2001 in Waterloo (Canada) at the hand of former employees in PixStream corporation that, in its turn, worked in developing video solutions, and that was shut down after being acquired by Sisco, which is a pioneer in the field of networks and information technology.
At its start, Sandvine focused on products related to administering broadband networks, reducing operational costs, video services, internet games, and video conferencing.
We noticed that Sandvine5 has the same postal address as BAE Systems6 in Israel. BAE sells surveillance and spying systems to Arab regimes7.
Procera Networks was founded in 2002 in California (USA). In 2006, it merged with Netintact -whose headquarter is in Varberg (Sweden)- that provided bandwidth administration products to Scandinavian network operators.
Sandvine had two research and development (R&D) offices, one in India and the other in Israel. In 2013, the company closed its Israel office (Sandvine managed this office after acquiring Israeli Cablematrix Technologies) and transferred its R&D operations to its India and Canada offices.
In 2015, Francisco Partners acquired Procera. Francisco Partners is a private shares company, whose investments in the communication and information technology sector is worth billions of US dollars.
Francisco Partners owns companies working in communication censorship and internet surveillance. It owns the NSO group which is a provider of espionage software and which is founded by a former member of the Israeli intelligence community8. Citizen Lab uncovered the Pegasus9 software, one of the applications of NSO. Francisco Partners also owns Circles10, which is another surveillance company.
In 2016, one of Procera's engineers -his name is Chris Anderson- resigned from the company saying: "I do not want to spend the rest of my life feeling sorry for being part of this Erdogan mania, therefore I resign". Procera had previously received a request from Turk Telecom (the main telecommunications operator in Turkey) to buy the Procera product which inspects deep packets. Anderson understood that the Turkish government will use this DPI devices to extract the usernames and passwords from the unencrypted data flow between users IP addresses, especially that some of the engineers who support Anderson said that the company asked them to use this technology in building surveillance devices to be handed out to Turkey. Furthermore, a former employee in the company told Forbes magazine that Francisco Partners' acquisition of Procera lead to a focus on group surveillance11.
In the second quarter of 2016, A Canadian person with Jordanian origins, called Osama Arafat, became a member of Sandvine's board12. Arafat is the former CEO of Q9 Networks, a Canadian company working in internet infrastructure and it also has data centers.
In 2017, Fransisco partners and Procera acquired Sandvine through one of PNI Acquireco Corp companies, which, in turn, is owned by Francisco Partners.
Dave Caputo -one of the founders of Sandvine- had been the CEO of the company until 2017, then he became the head of the board of directors after Francisco Partners acquired it. Caputo was previously a board member in Q9 Networks.
Sandvine came under spotlight, as a company specialized in producing and operating internet surveillance and censorship devices, after it was acquired by Francisco Partners and after merging with Procera under the name Sandvine13.
Francisco Partners kept, and still keeps, several investment portfolios in the field of producing and operating internet surveillance and censorship devices. Hence, its spying devices and services are not limited to Sandvine only. So, for example the company had investments in Blue Coat Systems for several years before selling its shares. Arab regimes used Blue Coat Systems products to censor the internet. A number of reports showed that the company is present in Egypt, Syria, Iraq, Iran, Bahrain, Qatar, UAE, and other countries14. It also had investments in NSO, whose Pegasus software was used by the governments of Morocco, Lebanon, Egypt, Joran, Iraq, Qatar, Bahrain, Saudi Arabia, and other countries15.
Sandvine started its activities in the Arab region years ago. Published financial data show that Sandvine's operations extend to the corners of the globe, including the Arab world. So, the annual report of the financial year that ended in November 2006 says that the company had a regional manager for its operations in Europe, the Middle East, and North Africa16. The same report also says that the company established local focal points to sell Sandvine's products, and that it had regional distributors in a number of countries, including the UAE and Israel. The report emphasizes in this regard that having regional distributors lifts an economic burden from upon the shoulders of the company17.

In 2007 Sandvine secured local representation in Qatar18. The annual report of the financial year that ended in November 2009, says that the company endeavored to expand in Europe, the Middle East, Africa, Asia, Australia, and Latin America19. The report adds that Sandvine won two more clients in the Middle East, and that it launched a sales and support office in Dubai to serve the region20.

The report also says that Sandvine activated direct sales channels in a number of countries, including the UAE and Israel. Furthermore, the company concluded agreements with regional companies to sell Sandvine's products in a number of countries, including Saudi Arabia and Qatar21.

The annual report for the financial year ending in November 2011 shows that Sandvine continued to expand its client base in the Middle East and Africa, as it succeeded to secure direct and indirect sales channels in several countries, including the UAE, Saudi Arabia, Qatar, Egypt, Jordan, and Israel. It should be noted here that the referred to report (and the report of the following financial year22) also indicated that Sandvine had R&D operations in Israel23.

In January 2013 the company announced that it had received purchase orders from three clients in the Middle East, indicating the continuing growth of its activities in the region. The company also announced the expansion of its direct and indirect sales channels in several countries, including Egypt, Qatar, Jordan, Kuwait, Lebanon, Morocco, Oman, Saudi Arabia, UAE, Yemen, and Israel. On the other hand, the company shut down its R&D office in Israel24.

In July 2014 Sandvine announced it had received more than USD 5m from two service providers in Europe, the Middle East and Africa, in context of its operations to provide solutions for administering data transfer and network analytics25.
In conclusion, the annual reports on the financial years from 2006 to 2017 show that Sandvine has had sales channels in: Azerbaijan, Australia, Germany, Uzbekistan, Ukraine, Spain, Israel, Indonesia, Italy, Argentina, Jordan, UAE, Brazil, Saudi Arabia, China, Morocco, Mexico, UK, India, USA, Japan, Greece, Pakistan, Bangladesh, Poland, Belorussia, Thailand, Taiwan, Turkey, Chile, the Dominican Republic, South Africa, Russia, Sri Lanka, Singapore, Switzerland, Oman, France, Venezuela, Vietnam, Cyprus, Qatar, Kirghizstan, Kazakhstan, Canada, Korea, Costa Rica, Columbia, Kenya, Egypt, Moldova, New Zealand, the Netherlands, and Hong Kong.
Sandvine the Arab region
Sandvine office, UAE
While we were searching for information on Sandvine's office in the UAE, we noticed that several of the current employees in the company were previously hired by 'Giza Systems – the Egyptian Systems Company'. (Giza Systems was previously involved in importing the Finfisher software -a Gamma product, and Narus System software -a Narus product).
For example, Sandvine's deputy regional manager worked in Giza Systems for more than 10 years. Also, one of Sandvine's engineers worked for more than 4 years in Giza Systems. Another employee in Giza Systems (he worked there for more 7 years), was hired by Procera Networks and attended two of its training courses, one of them is 'operating with PacketLogic'. It should be said here that PacketLogic is one of Sandvine's most important products in the field of internet censorship26.
Vodafone, Egypt
In April 2017, Procera Networks announced a multi-year, multi-million-dollar partnership with Vodafone Egypt. The company's statement said "Procera was selected for the deployment after a competitive evaluation due to the strength of their virtualized solution offering for subscriber experience analytics, even as encryption becomes prevalent on the Internet". The statement added that Vodafone will acquire PacketLogic solutions27, which are DPI devices that were previously used in Turkey to spread malware. It should be added here that the wave of website blocking in Egypt started at the end of May 2017, one month after the conclusion of the Procera-Vodafone deal.
It was revealed that website blocking in Egypt was implemented through two technologies that allow internet censorship. The first is the PacketLogic DRDL engine, that gives the service provider the ability to curtail access to some websites and inhibit the use of some protocols, in addition to real-time data transfer surveillance, and other services28. The second is the CoreCard technology, a tool that allows network surveillance and helps in analyzing user behavior. According to the company, this technology was designed to help service providers to abide by the changing laws and facilitates the needed transfer to a new infrastructure in accordance with the new laws29.
Westcon
This is an international company working in more than 70 countries. It has offices in several regions and states, including Morocco, Bahrain, Qatar, Kuwait, Saudi Arabia, and UAE. In February 2020 'Westcon Middle East' signed an agreement with Sandvine30 to market and distribute the latter's products, services and solutions. This partnership was agreed upon in context of Sandvine's strive to expand its operations in the Middle East and Turkey31.
MITTCO, UAE
MITTCO is based in the UAE. It is part of the Omani Suhail Bahwan Group and has a representation office in Dubai. The Suhail Bahwan Group oversees the operations of 40 companies, including Bahwan for Information Technology and Bahwan for Projects and telecommunication. MITTCO started its partnership with Sandvine early on, in 2005, and the aim was to provide clients in UAE with the company's solutions.
MITTCO has several clients in the communication sector; for example: Omantel (Oman), Qatar Telecom (Qatar), EthioTelecom (Ethiopia), Emirates Integrated Telecommunications Company-DU (UAE), and Itisalat (UAE)32.
Emirates Integrated Telecommunications Company-DU, UAE
In 2014, Du (the main service operator in UAE) acquired from Procera Networks the PacketLogic 10000 solution for Deep Packet Inspection (DPI)33.
CIS, Lebanon
Computer Information Systems (CIS) was established in Lebanon in 1979. It serves as a provider of information systems in the information and telecommunications market (ICT) in Europe, Africa and the Near East. It also has expertise in distributing integrated technical solutions.
CIS is a partner of Sandvine since 2012. The group says on its website that Sandvine's solutions have been provided to a number of companies, among them: Algerie Telecom, Orange RDC, Telkom Kenya, and MTN Business Kenya34. The group also says that its partnership with Sandvine includes DPI solutions.
CIS provides its services to several countries: Congo, Ghana, Togo, Jordan, Morocco, Mozambique, Kenya, Tunisia, Benin, Burkina Faso, Cameroon, Gabon, Iraq, Mali, Libya, France, Angola, Algeria, Uganda, Senegal, Rwanda, and Nigeria.
The company has several business relations with Arabic telecommunications companies, for example:
Algeria: Algeria Telecom, Mobilis, Ooredoo, Wataniya Telecom.
Lebanon: Al-Mada, Alfa, Ogero, Sodetel, Ministry of Telecommunications, Telecommunications Regulatory Authority, Touch.
Saudi Arabia: Saudi Telecom.
Iraq: Korek Telecom.
Etisalat, UAE
In 2014, A piece of news published on Sandvine's website said that the company received a multi-million US dollars order from UAE's Itisalat. It added that Itisalat is one of Sandvine's clients since 2006. The afore mentioned order is part of a multi-year multi-phase planned project that will cover Itisalat's fixed and mobile networks, as Sandvine is considered one of the best companies to provide services like network analytics and usage administration35.
Mobily, Saudi Arabia
In 2018, Sandvine announced a partnership with Saudi Mobily to provide the latter with Active Network Intelligence solutions36.
BARQ Systems
BARQ Systems was established in 1993 in Jeddah (Saudi Arabia) under the name SALEC. It specializes in telecommunications and information technology. It opened an office in Cairo in 1999 (the company's headquarter is currently in Cairo, with an office in Riyadh, another in Jeddah, and a third in UAE).
BARQ Systems is a partner of Sandvine37. It works with several telecommunications companies and government entities, including Itisalat, Vodafone, Orange, Saudi Telecom, Egypt Telecom, Egypt's Ministry of Interior, Egypt's Ministry of Communications and Information Technology, the smart government of Dubai in UAE, and Saudi infantry security forces (part of the Saudi Ministry of Interior), Saudi Ministry of interior, Saudi Ministry of National Guard38.
EliteVAD, UAE
An Emirati company which has offices in Egypt and Kenya, in addition to its main office in Dubai. EliteVAD provides a number of services related to information technology, including services provided to law enforcement bodies.
EliteVAD is a partner of Sandvine, and it provides the PacketLogic solutions to its customers. As the company says on its website it designs its services to deliver "the best subscriber experience possible for analytics, traffic management, and enforcement use cases"39. The company, as it appears, has operations in several countries. A current EliteVAD employee says their number has reached 37 countries.
King Saud Universty, Saudi Arabia
At the end of 2012, King Saud University highlighted in a statement that it started to apply Procera Networks' PacketLogic solutions (as we know, Procera is now 'Sandvine'). The statement added that the university did not solely seek to have the power to control but hoped for more: acquiring the ability to monitor and check all what's going on in the cyper space, to ensure "the best use of the network's resources"40.
Zain, Jordan
A 'Qurium' report said that Zain, a Jordanian telecommunications company, uses Sandvine's products to block websites and censor the internet.
ONYXES, Iraq
ONYXES is a pioneer in providing information technology solutions and services in Iraq. It started its operations in 2011 as part of the MARCH Holding Group, which, in turn, works in different industries in the Middle East (the public sector, oil and gas, communications, banking, health services). The company has offices in Egypt, Iraq, UAE, and Afghanistan, and has joint ventures with a number of telecommunications companies like Zain and Check Net and AsiaCel41.
It has been revealed that one of the engineers of ONYXES passed a training course in operating the PacketLogic software which is used in internet censorship.
NNS, Jordan
'Network Solutions and Services Company' was established in Jordan in 2000, as a provider of telecommunications and information technology services. It is one of Sandvine's companies in the Arab region42.
Al-Yagoot, Yemen
Al-Yagoot is a Yemeni telecommunications company that works in the communications and information technology sector. It was established in 2000, and it provides several services like installing and operating digital security software, in addition to training and technical support43.
Conclusion
It is clear from this exposition that Sandvine is involved in activities that violate the freedom of expression, the right to privacy, and the right to have access to information. Despite the fact that it is true that international human rights commitments fall only upon states and governments, yet international law has developed in recent decades to allow for a greater corporate responsibility. Corporates have to abide by the standards of human rights and make sure that any of their activities do not violate the basic rights and freedoms stated in international treaties and national constitutions and laws. The Egyptian authorities, in its turn, is committed to make sure its information technology business deals are not in contradiction with its responsibility to respect and enhance human rights44.
footnote
1 Citizen Lab' is a laboratory in Tornoto University in Canada. It studies cases of information control that adversely affect the internet openness and security and that represent a form of human right violation.
2 BAD TRAFFIC: https://citizenlab.ca/2018/03/bad-traffic-sandvines-packetlogic-devices-deploy-government-spyware-turkey-syria/
3 Qurium is an organization formed by a number of people with expertise in civil society and freedom of expression and internet security. It provides independent media outlets with secure hosting..
4 Internet blocking in Jordan: https://www.qurium.org/alerts/jordan/internet-blocking-in-jordan/;
هكذا تحجب مصر المواقع المستقلة : https://almanassa.com/ar/story/15159 
5 Dun & Bradstreet - Sandvine : https://www.dnb.com/business-directory/company-profiles.sandvine_technologies_ltd.92b2eaead893c85ca14e634a0a7fff89.html#financials-anchor
6 Dun & Bradstreet – BAE Systemes: https://www.dnb.com/business-directory/company-profiles.bae_systems_rokar_international_ltd.ddd846ab6fa8404a76dddeca7b785e49.html
7 BAE Systems Sells Internet Surveillance Gear to United Arab Emirates: https://theintercept.com/2016/08/26/bae-systems-sells-internet-surveillance-gear-to-united-arab-emirates/
8 Everything We Know About NSO Group: The Professional Spies Who Hacked iPhones With A Single Text: https://www.forbes.com/sites/thomasbrewster/2016/08/25/everything-we-know-about-nso-group-the-professional-spies-who-hacked-iphones-with-a-single-text/#32256ded3997
9 The Million Dollar Dissident: https://citizenlab.ca/2016/08/million-dollar-dissident-iphone-zero-day-nso-group-uae/
10 Hackers Are Tapping Into Mobile Networks' Backbone, New Research Shows: https://www.forbes.com/sites/parmyolson/2015/10/14/hackers-mobile-network-backbone-ss7/#7b17b5875142
11 Is An American Company's Technology Helping Turkey Spy On Its Citizens?: https://www.forbes.com/sites/thomasbrewster/2016/10/25/procera-francisco-partners-turkey-surveillance-erdogan/#7be0db184434
12 Sandvine Reports Q2: https://www.lightreading.com/video/ott/sandvine-reports-q2/d/d-id/724604?_mc=RSS_LR_EDT
13 Procera rebrands as Sandvine now that the merger is complete: https://www.sandvine.com/inthenews/procera-rebrands-as-sandvine-now-that-the-merger-is-complete
14 Blue Coat: https://citizenlab.ca/tag/blue-coat/
15 NSO Group: https://citizenlab.ca/tag/nso-group/
16 Annual Information Form for The Fiscal Year Ended November 30, 2006 - Published in February 27th, 2007: Page 23
17 Annual Information Form for The Fiscal Year Ended November 30, 2006 - Published in February 27th, 2007: Page 6 and 10
18 Annual Information Form For The Fiscal Year Ended November 30, 2007 – Published in January 16th, 2008: Pages 7 and 11
19 Annual Information Form For The Fiscal Year Ended November 30, 2009 – Published in January 14th, 2010: Page 4
20 Annual Information Form For The Fiscal Year Ended November 30, 2009 – Published in January 14th, 2010: Page 6
21 Annual Information Form For The Fiscal Year Ended November 30, 2009 – Published in January 14th, 2010: Page 7 and 9
22 Annual Information Form For The Fiscal Year Ended November 30, 2011 – Published in January 12th, 2012: Page 8 and 10
23 Annual Information Form For The Fiscal Year Ended November 30, 2012 – Published in January 10th, 2013: pages 8,9 and 10
24 Annual Information Form For The Fiscal Year Ended November 30, 2013 – Published in January 9th, 2014: Pages 8 ,9 and 10
25 Annual Information Form For The Fiscal Year Ended November 30, 2014 – Published in January 15th, 2015
26 BAD TRAFFIC, The Citizen Lab: https://citizenlab.ca/2018/03/bad-traffic-sandvines-packetlogic-devices-deploy-government-spyware-turkey-syria/
27 Vodafone Egypt Taps Procera: https://www.sandvine.com/inthenews/vodafone-egypt-taps-procera-light-reading
28 BAD TRAFFIC, The Citizen Lab : https://citizenlab.ca/2018/03/bad-traffic-sandvines-packetlogic-devices-deploy-government-spyware-turkey-syria/
29 PacketLogic and Traffic Management : http://www.wcsupport.com/packetlogic.html
30 Procera launches network service monitoring tool - Channel Post EMEA: https://www.sandvine.com/inthenews/procera-launches-network-service-monitoring-tool
31 Company website: https://www.westconcomstor.com/me/en/vendors/sandvine.html
32 In-depth: Sandvine and Westcon accelerate regional growth through strategic partnership: https://www.channelmiddleeast.com/business-strategy/90657-in-depth-sandvine-and-westcon-accelerate-regional-growth-through-strategic-partnership
33 MATTICO website- Major Customers : http://mittco.com/key-customers/#1483014676259-e075b661-df34
34 du deploys Procera's High End DPI for Enhanced Customer Experience and Network Optimization: https://www.thefastmode.com/1176-du-deploys-procera-high-end-dpi-for-enhanced-customer-experience-and-network-optimization
35 CIS is now a Sandvine Select Partner: https://groupcis.com/cis-is-now-a-sandvine-select-partner/
36 Etisalat and Sandvine reveal latest Middle Eastern internet trends : https://www.newswire.ca/news-releases/etisalat-and-sandvine-reveal-latest-middle-eastern-internet-trends-515899151.html
37 Sandvine Announces Strategic Partnership with Mobily to Enhance Customer Experience with Active Network Intelligence : https://www.prnewswire.com/news-releases/sandvine-announces-strategic-partnership-with-mobily-to-enhance-customer-experience-with-active-network-intelligence-300605094.html
38 Partners - Sandvine : https://www.barqsystems.com/partnersdetails/33?Sandvine
39 Key Clients: https://www.barqsystems.com/About-Us/Key-Customers
40 EliteVAD website: https://elitevad.com/solutions/intelligence-and-forensics/sandvine/
41 جامعة الملك سعود تعتمد حلول «بروسيرا نتوركس» : https://news.ksu.edu.sa/ar/node/97621
42 Onyxes website: https://www.onyxes.com/portfolio/sandvine-authorized-partner
43 SNN website: https://www.nss.net.jo/page/sandvine
44 Al yagoot website: http://www.al-yagoot.com/
45 UN Guiding Principles on Business and Human Rights (UNGPs), https://www.ohchr.org/documents/publications/guidingprinciplesbusinesshr_en.pdf